Little Athletics "the foundation of all sports"
Little Athletics is the Foundation for all Sports, teaching children all the necessary fundamental movement skills to thrive on and off the sporting field. Through building children's confidence in themselves we see them leading a happy, active, and healthy life. Based upon the sport of athletics (track and field) the events are specially modified to suit the ages and abilities of children. A wide range of running, jumping, throwing, and walking events is conducted.
The sport of athletics plays an important role within the school environment with many schools conducting traditional and modified school carnivals. LANSW (Little Athletics NSW) continues to have a strong tradition supporting school athletics programs; ensuring school children are provided with the opportunity to acquire and develop these skills in a fun and inclusive environment. Alongside this, LANSW programs ensure teachers are supported in their personal development and are provided with best practice activities to ensure their students and the school community all have positive experiences with athletics.
OUTCOMES
Students:
•   Promote an active and healthy lifestyle through athletics
•   Develop fundamental movement skills in athletics and their implementation with other sports
•   Develop event-specific athletic skills in preparation for school carnivals
•   Appreciate the sport of athletics and encourage participation outside the school environment
Teachers:
•   Educate and assist teachers with the Fundamental Skills of athletics
•   Educate and assist teachers with specific athletics events
•   Educate and assist teachers in the delivery of athletics in the school
•   Support and assist schools with school carnivals
LANSW has staff located across NSW. Look at the maps below to find which staff member you can contact based on your school's location.
Regional Staff:
Metro Staff:
4 Ways LANSW can assist your school:
           1) FREE  "Give it a Go" LAPS Experience
Little Athletics NSW offers schools the opportunity to experience our Little Athletics Program for Schools (LAPS) through our "Give it a Go" format for FREE.
Through "Give it a Go" programs, here is a chance for your school to taste our outstanding educational athletics program obligation-free, no strings attached. This session generally takes the form of a fast-moving and fun multi-station, multi-skilled athletics circuit where students explore the fundamental movement skills of Running, Jumping, and Throwing.
To book your FREE LAPS session please click HERE (dependent on coach availability)
           2) LAPS School Athletics Coaching Program
Through LAPS, Little Athletics NSW aims to deliver an outstanding educational athletic program that provides a high-quality experience to every participant. The children involved will develop their running, jumping, and throwing skills by participating in highly active sessions with Athletics Australia-qualified coaches.
The LAPS program is a fundamental movement and event-specific athletics coaching program designed for primary schools. We offer fun, highly active sessions aimed at developing the fundamental skills of athletics and event-specific techniques that facilitate the confidence to participate. We use modified equipment to ensure students can participate safely and successfully.  Many schools utilise this program to prepare for their upcoming school athletics carnival and/or to develop students' fundamental movement skills.
Both primary and high schools have utilised LAPS for their school representative athletics squad. Specific events may be chosen.
To download the LAPS flyer, CLICK HERE 
For more information and prices, CLICK HERE
           3) Teachers Ambassador Program

The Little Athletics NSW Teacher Ambassador program aims to provide teachers with support, resources, and educational opportunities, as well as recognition for promoting athletics in their schools and community.
This program aims to identify teachers who have a passion for athletics, assist with implementing programs within the school environment, and encourage students to further participate at their local Little Athletics Centres.
Becoming a Little Athletics NSW Ambassador is easy and FREE!
CLICK HERE to register and for more information.
           4) School Carnival Support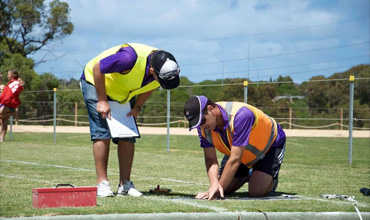 LANSW can assist with school carnival officials. Our coaches can be utilised as coaches/officials to assist with school carnivals. Staff members can either:
– Oversee an event providing direct advice and or assist as an event official
– Event support where the coach freely moves around during the carnival assisting at various events providing technique/officiating advice where necessary.
LANSW can also assist with sourcing higher-level officials for major athletics carnivals (Zone, Diocesan, Region, etc)
Additional Resources for Schools:
NEW!  "Run Jump & Throw Yourself Into It Activity Session" Video Series
A series of 24 short videos have been developed by accredited LANSW staff to assist and educate members of the little athletics community. These resources have been especially designed for; Age Managers, Coaches, Little Athletes and Teachers to help teach and experience the basic fundamental skills of running, jumping and throwing events in track and field.  All activities are "FUN"damental skills based, and can be done on the playground, backyard, front yard and even inside using modified equipment. Add some of these ideas to your athletics program and be creative!.
To view the entire series from the Little Athletics NSW YouTube channel CLICK HERE
Little Athletics Officiating Video Resources
Here are some videos introducing Little Athletics' basic officiating techniques used in each event. To be used as a guide only for schools.
*Please note that some Little Athletics rules, requirements, and techniques may/will differ slightly to schools. It is the responsibility of teachers to be aware of these differences.
Little Athletics NSW Rules of Competition
The Little Athletics NSW Rules of Competition, plus links to the Little Athletics Australia Standard Rules and the IAAF Rules & Regulations.
*Please note that some Little Athletics rules and requirements may/will differ slightly to schools. It is the responsibility of teachers to be aware of these differences.
For any school-related inquiries or assistance please contact via participation@lansw.com.au
**All programs are dependent on coach availability and Little Athletics NSW are continuing to work on reaching more areas across NSW.